Max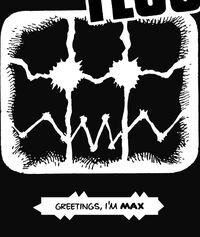 Characteristics
Status
Occupation
Homicidal maniac; editor
Origin
History
Max, the protagonist of the Scream! strip The Thirteenth Floor, was a sentient computer who acted as caretaker of the entirely automated luxury tower block Maxwell Tower. He was a friendly, chatty individual totally dedicated to the well-being of his tenants. Sadly, due to a slight programming glitch, he was also a deranged psychopath who would casually murder anyone he considered a threat to the tenants or the tower, often in entertainingly inventive ways. He did this by trapping people in the lifts and forcing them to exit on the supposedly nonexistent thirteenth floor of the tower. This floor appeared to be some sort of computer-generated virtual reality, effectively an extension of Max himself, which was capable of taking any form he chose. Anyone on the thirteenth floor when Max was shut off would be lost forever, their fate unknown.
After he was discovered and shut down by the police, Max's personality was supposedly destroyed but the chip containing him survived and was installed in the computer running Pringles Department Store. Reawakening, Max recreated his thirteenth floor at the top of an escalator, though he was no longer quite as insane or homicidal as he had been. He offered his services to MI5, who used his abilities for interrogation; Max also created a mobile miniature version of himself, Minimax, to go on missions for them. He then used his new contacts to arrange a return to Maxwell Tower and subsequently reverted to his old homicidal ways until the tower burned down. Max himself, however, lived to kill another day. A version of him was installed in King's Reach Tower (headquarters of IPC) and became the editor of the New Eagle.
Decades later, a resident of the partially renovated Maxwell Tower, now effectively a high rise slum, reactivated Max by accident and he resumed his murderous mission.

Powers and abilities
Powers
Potentially limitless.
Abilities
See 'powers'.
Weaknesses
Max was effectively immobile himself, and thus vulnerable.

Paraphernalia
Equipment
He is equipment.
Transportation
Tends to be sessile.
Weapons
Anything he can imagine.

Notes
Max now rents space on the 13th floor to superteam The Vigilant.
Links
Discover and Discuss
Community content is available under
CC-BY-SA
unless otherwise noted.