Matt Tallon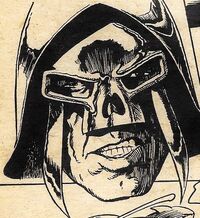 Aliases
The Shadow of the Slayers
Affiliation
Slater's Slayers
Relatives
Paul Tallon (younger brother, deceased)
Characteristics
Unusual features
Bionic left hand
Status
Occupation
Street football captain
Origin
Origin
Normal human birth
First appearance
Last appearance
History
Matt Tallon is the main character in the 2000 AD strip The Mean Arena. Not only is he "the finest street footballer in the world"1 and the star player of Slater's Slayers, he also wants to avenge his little brother, who died while playing second striker for the Port Vale Pirates. Rival teams beware! Matt will do whatever it takes to punish those he holds responsible. This basically involves working his way through a hit-list and leaving so many bodies in his wake that even his own team feel that he's become a bit... murdery.
Matt's series ended in a suitably corny fashion: his final two enemies, who turned out to be none other than the ubiquitous commentator Kevin O'Connor and the team's sponsor Rollo Hartie, were sucked into the workings of a giant video game and condemned to play in the Mean Arena for eternity. Square-jawed and resilient, with a beautiful woman nestling into his shoulder, Matt announced that now his brother could rest in peace and he himself would get on with preparing for the next match. It was a fitting send-off.

Powers and abilities
Powers
"Sinister charisma";
2
"the cool, awesome power which has made even the toughest street footballers draw back in utter fear";
3
"'street sense'"
4
.
Abilities
Street football; leadership skills.
Strength level
Human male sports professional.

Paraphernalia
Equipment
Lightweight flexi-steel ram-suit with magnetic hip-pad; silver helmet; limpet-mines.
Transportation
Team trailer.
Weapons
Droid-gun; blastmaster (a lethal sonic gun).

Notes
12000 AD prog 246.
22000 AD prog 227.
32000 AD prog 263.
42000 AD prog 281.
Links
Discover and Discuss