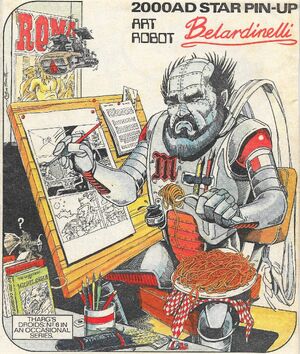 Massimo Belardinelli (1938 - 2007) was a comic strip artist from Rome who worked for 
2000 AD
,
Battle Picture Weekly
,
Eagle
,
Wildcat
and
Tornado
, amongst other titles. His style was lively, humorous, inventive and often surreal, characterised by distortion and caricature coupled with copious motion lines. Endowed with a seemingly limitless imagination, he excelled at portraying weird and wonderful alien characters, as shown by perhaps his most famous work,
Ace Trucking Co.
Every panel vibrated with energy — even the dangling ends of Ace's scarf were endowed with a life of their own — and was crammed with comic details.
Although Belardinelli's style might seem less suitable for stories that were darker in tone he also produced some memorable episodes for Sláine, giving the hero's 'warp-spasm' a truly grotesque aspect which no other artist has matched. For Meltdown Man he had to create a world populated by humanoid animals, a challenge which he met with his customary verve, and he was equally at home depicting a futuristic sports tournament in Mean Team.
Belardinelli worked on many strips during his career, including
Flesh
,
The Angry Planet
,
Black-Hawk
,
Harlem Heroes
,
Inferno
,
The Dead
,
Moonrunners
,
Joe Alien
and (unsurprisingly)
Teenage Mutant Hero Turtles
(they're anthropomorphic turtles, they eat pizza, they live in a sewer and they fight crime — who would be better at drawing it?). Earlier in his career he drew
Star Trek
,
Rat Pack
,
Death Game 1999
and
Green's Grudge War
, but his big break came when
Pat Mills
chose him to draw
Dan Dare
in
2000 AD
in 1977. Mills apparently thought "the hero looked awful," which to Belardinelli's fans shouldn't come as a shock. Dan Dare was a square-jawed, clean-living pilot with an upper lip as stiff as his moral code, and Belardinelli was a man who excelled at depicting the strange, the peculiar, the uncanny and the downright odd. He had no time for anything strait-laced.
There is a tribute to Belardinelli on D'Israeli's blog.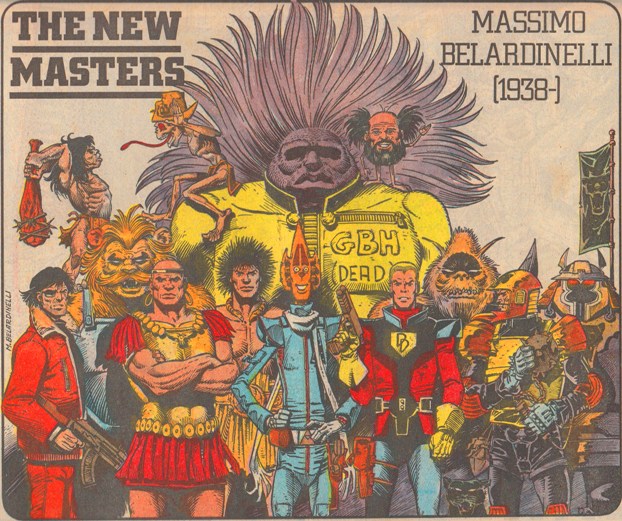 Community content is available under
CC-BY-SA
unless otherwise noted.