This page contains a list of all the comics included in Marvel Comic Vol 1: .
If you have found something that is not seen on this page, please add it to this list.
(This template will categorize articles that include it into Category:Comic Lists.)
---
Back to title selection : Comics M : Marvel Comic Vol 1
---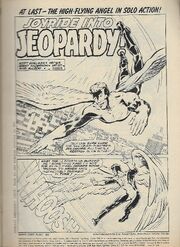 Marvel Comic
was the new title adopted by the original
Mighty World of Marvel
with issue #330 in January 1979 as part of
Dez Skinn
's reinvention of the
Marvel UK
line. It ran for only a few weeks in this form (until #352) before becoming
Marvel Super-Heroes Monthly
with #353 (although oddly, the
Marvel Comic
masthead is incorporated into the tite of
The Spectacular Spider-Man Weekly Vol 1
for several weeks, with
Daredevil
and
Godzilla
transferring across). Strips featured in
Marvel Comic
during its run included the
Hulk, Daredevil, Conan, Dracula, Skull the Slayer
,
Master of Kung-Fu
(rebranded as
S.I.6: The Specialists
) and later
Ms. Marvel, Godzilla
and the
X-Men
, with
Ms. Marvel
and the
X-Men
migrating to MSH. See also
Mighty World of Marvel Vol 1
. Issue #335 included a new, original six page story starring
Wolverine
and Hercules and a five page story starring the
Angel
of the
X-Men
(both later reprinted in the US in a 1980 Treasury Edition, and the Wolverine strip reprinted again in the UK in an issue of the
X-Men Pocketbook
). Android
Avenger
the
Vision
appeared in a UK originated solo story in issue #336, which was reprinted in American title
Tales to Astonish
#12 late the following year.
See Also:

---
Back to title selection : Comics M : Marvel Comic Vol 1
---
Community content is available under
CC-BY-SA
unless otherwise noted.