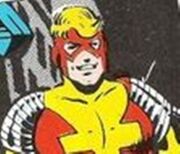 Mark Farmer is a comics artist who began his career at in the British comics industry in the early 1980s, working on strips including Tharg's Future Shocks, Rogue Trooper, Sláine, Judge Dredd, Anderson, Psi-Division and D.R. & Quinch for 2000 AD and its associated titles, Dice Man, the 2000 AD Sci-Fi Special and the Judge Dredd Annual and on Action Force, Doctor Who and two British-originated Spider-Man strips for Marvel UK, before moving into American comics to work on various titles including Excalibur, X-Men and Batman for American publishers. Primarily known as an inker, he frequently collaborates with Alan Davis.
Community content is available under
CC-BY-SA
unless otherwise noted.