Rachel Verlaine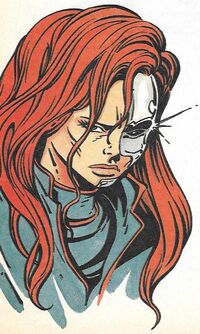 Real name
Rachel Verlaine
Relatives
Theodore Verlaine (father, deceased)
Base of operations
New York
Characteristics
Status
Occupation
Police officer
Origin
Origin
Has alien parasite
History
Detective Rachel Verlaine was born on Maldoror, home to the no-longer-human New Flesh. Her father, Theodore Verlaine, was a scientist investigating them, and her mother died giving birth to her. At the age of ten the New Flesh forcibly infected Rachel with the Omuli parasite, which gave her the same paranormal abilities they had: psychic powers and shapeshifting. Rachel's father sent her back to Earth, where she grew up and became the most efficient cop in 21st century New York. The parasite lay dormant within her, but was reactivated when she received a message from her dead father.
Rachel then found herself engaged in a deadly conflict with Dorian Ventris of the Ventris Corporation, her father's former employer. Ventris had been made both hideously deformed (appropriately enough) and insane by a chemical Theodore Verlaine had derived from the parasite, and thought that Rachel was the key that would grant him full control of the mysterious power of the New Flesh.

Powers and abilities
Powers
Psychic abilities; flying; existing unaided in space; shapeshifting.
Abilities
Has the highest clear-up rate of any police officer in New York.
Strength level
Probably superhuman.
Weaknesses
Disfigured by the parasite, Rachel hides her facial deformity behind a half mask.

Paraphernalia
Weapons
Blaster; any teeth, claws or spiky bits she can grow on her body.

Notes
There were three series of Mambo, in 2000 AD progs 889 to 896 (The New Flesh), 940 to 947 (Fleshworld) and 1014 to 1023 (Fleshworks).

Trivia
'Mambo', meaning 'spiritual leader', was the name given to Rachel by the New Flesh.
Links
Discover and Discuss
Community content is available under
CC-BY-SA
unless otherwise noted.