Macha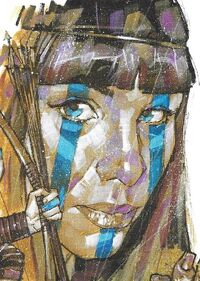 Affiliation
Warrior of the Sessair
Characteristics
Status
Origin
Origin
Normal human birth
History
Macha is a character from the 2000 AD strip Sláine. She was the wife of Roth Bellyshaker, and spent her youth battling the Fomorian sea devils at his side. When the Fomorians were defeated Macha gave birth to a son, Sláine MacRoth, and gave him his first food on the tip of a sword blade so he would grow up to be a mighty warrior like his mother.
Roth was convinced that Sláine, who did not resemble him, was not in fact his son. Macha vigorously denied this, but Roth used to get drunk, beat her up and demand to know the name of Sláine's 'real' father.
Macha enjoyed spending time with Sláine when he was a child, teaching him how to kill Fomorians with a bow and arrow. She told him that she had had an affair with her brother-in-law, also called Sláine, because she was a wild-hearted free spirit who couldn't be tied down to just one man. She also told him that his putative father Roth lacked ambition and wouldn't have got where he was today if it wasn't for her. Macha's son grew up to be a highly proficient warrior and a psychological mess.
As well as her brother-in-law, Macha had affairs with Trego the swordmaster and Duban the druid. Eventually Roth, who had become an alcoholic, got so inebriated that he boasted to the king of the Sessair that Macha could outrun the royal chariot in the next day's chariot race. The king took him at his word and forced Macha to run in the race, with Roth and the child Sláine watching. Macha was trampled to death by the charioteers' horses. It is possible that Roth made his boast deliberately so that he would be rid of his unfaithful wife.
When Sláine was an adult fighting Drune Lords and Diluvials, Macha appeared in his head to guide him and enhance his archery skills.

Powers and abilities
Abilities
Armed combat; marksmanship; being the greatest archer of her generation; the eagle feat (catching a flying arrow and firing it back); the owl feat (shooting at someone heard but unseen); the falcon feat (splitting an approaching arrow with another).
Strength level
Human female who gets regular strenuous exercise (fighting Fomorians).

Paraphernalia
Transportation
Chariot.
Weapons
Sword; bow and arrows (including a boomerang arrow).
Links
Discover and Discuss
Community content is available under
CC-BY-SA
unless otherwise noted.