Lord Snooty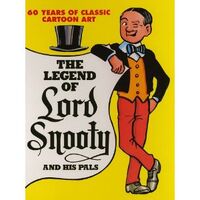 Real name
Lord Marmaduke of Bunkerton
Current alias
Lord Snooty
Affiliation
The Beezer kids of Ash Can Alley
Base of operations
Castle
Characteristics
Status
Origin
Origin
Normal human birth
History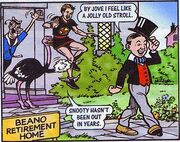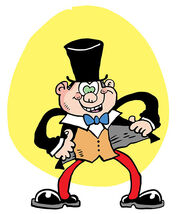 Lord Snooty is one of the most famous characters from the Beano, first appearing in the first issue, dated 30th July 1938, and drawn by Dudley D. Watkins.
The central character was Lord Marmaduke of Bunkerton, but known to his friends as Snooty. The original premise was quite simple and conventional. It consisted of Snooty being fed up with living in a castle under the watchful eye of Aunt Matilda and doing things he didn't want to do, so when he had the chance, he would change into different clothes and have fun with his friends from Ash Can Alley. They were Scrapper Smith, Hairpin Huggins, Skinny Lizzie, Rosie, Happy Hutton, Gertie the goat and later Snitch and Snatch. This basic plot remained for the first few years. During the Second World War, however, the storylines began to change, and sometimes would consist of Snooty and his pals trying to foil the Nazis' (and sometimes even Hitler's) plans. After the war, the storylines became more like how they'd stay, and would often be set in the castle, despite the fact that the trash can alley gang were always present.
The first series of Lord Snooty came to an end in 1949, returning towards the end of 1950. The first strip of this series was the final appearence of Skinny Lizzie, Hairpin Huggins, Happy Hutton and Gertie the goat. The following week, Snooty's new pals were introduced. These had all appeared previously in retired strips. They were Big Fat Joe, (just called Fat Joe in the Lord Snooty strip), Swanky Lanky Liz, Doubting Thomas and Polly (originally Polly Wolly Doodle and her Great Big Poodle). This series of Lord Snooty continued until 1958, but a large amount of strips weren't by Watkins; some of them were by Leo Baxendale, who also drew several Biffo the Bear strips from around this time.
The third — and longest running — series began in 1959. To start with most episodes were reprints. However, by the mid-sixties Watkins was drawing new strips. Watkins stopped drawing Lord Snooty in 1968, a year before he died. This was when Robert Nixon took over, and produced a fair representation of Watkins' style.
In 1973, Nixon left D.C. Thomson to work for IPC and his work in the Beano was taken over by other artists. Both Lord Snooty and Grandpa were taken over by Jimmy Glen, who drew in a similar style to Nixon. He continued to draw Lord Snooty for fifteen years, although during the 1980s the strip was sometimes only half a page as opposed to a full one.
Jimmy Glen finally stopped drawing Lord Snooty in 1988, when Ken Harrison took over. However, a lot of the strip's original charm was now lost, and Snooty's personality took a turn for the worse. Ken continued to draw it for several years, with John Dallas filling in on occasion.
The pint-sized aristocrat stopped appearing regularly in 1990 and his final appearance was in 1991. The reason why he was axed was due to the fact that it was difficult to write his strips and readers could not relate to Snooty or his pals anymore. Former Beano editor Euan Kerr stated that Lord Snooty was always his least favourite character to write for, while Alan Digby (who later replaced Euan as the comic's editor) also said that he did not like the strip. The Sunday Times reprinted old Lord Snooty strips in The Funday Times for a short while afterwards.
Lord Snooty graced the public with his presence several times after being axed. An example was a strip of The Sort Out Squad in 1995 (drawn by Robert Nixon). He appeared more prominently in the Beano issue 3093 (27 October 2001), where he appeared in a one-off strip called 'Lord Snooty's Day out'. In the 65th anniversary issue, Snooty is one of the characters from the Beano's first issue who feature in current strips — the one he appears in is The Bash Street Kids. He also made a brief appearance in the 70th anniversary issue of the Beano in a specially-drawn Fred's Bed strip, which was usually reprints at the time.
In 2008, Lord Snooty III appeared as a regular strip in the Beano, drawn by Nigel Parkinson.
Critical analysis
Renowned journalist and historian Sir Herbert Gusset Charles Moore has penned the following intriguing analysis of the strip in the right-wing Daily Telegraph newspaper1:
"For most of his 52-year career, Lord 'Snooty' (full title: Marmaduke, Earl of Bunkerton) rebelled against his background. 'Son of a Duke But Always Pally With the Beezer Kids of Ash-can Alley', Snooty joined the Ash-can Alley gang for adventures. They deferred to him, and made him their leader.
Before long, Snooty was masterminding freelance operations against the Nazis – dropping germs on them, for instance, so that Hitler had to write to 'der Great Lord Snooty' ('mine moustache is coming out in purple spots') and beg for mercy. In peacetime, he waged relentless war against the rival 'Gasworks Gang', a group of ill-favoured yobs who looked like John Prescott and Ed Balls [prominent members of the left-wing Labour Party at the time of writing]. Snooty was a popular hero. He triumphed because he shared the sufferings of his comrades while adding the gentlemanly virtues which they lacked. He is the ideal role model for David Cameron [leader of the right-wing Conservative Party].
In 1990, however, Lord Snooty was dropped by the Beano. Recently, the paper has brought back a character called Lord Snooty III. He is a repulsive boy who wallows in wealth, hits his butler and says things like 'I was watching Who Wants to be a Millionaire? to laugh at the poor'."
Parody
A parody strip entitled Dave Snooty and his Pals, featuring the Conservative Party under the leadership of David Cameron, was published in Private Eye. It was the brainchild of satirist Ian Hislop and artist Nick Newman, and was later renamed Dave Snooty and his No Pals when the Conservative-Liberal coalition, elected in May 2010, became increasingly unpopular.
The strip depicts David Cameron as 'Dave Snooty' and Conservative politician Boris Johnson as his nemesis, 'Boris the Menace', complete with red and black stripy jumper. (There were widespread rumours, enthusiastically shared by Private Eye, that Boris Johnson wanted to replace David Cameron as Conservative Party leader and do an embarrassingly good job of it. In public the two men consistently asserted their loyalty to and respect for each other.)
Dave Snooty and his [No] Pals was a colour strip in a bold, vigorous cartoon style, consisting of three or four panels. The humour was heavily reliant upon puns and slapstick. Objects of interest were pointed out with captions and little arrows. The reader would frequently be addressed in the final panel, often by a grinning and winking Boris employing some ghastly pun ("It's the same old Tory, eh, reader?").
Dave Snooty would almost end up defeated or humiliated, and about the best that could be said for the character was that at least he wasn't as hapless as the permanent underdog, chain-smoking Liberal Nick Clegg. (In May 2010 Nick Clegg's Liberal Democrat Party helped the Conservatives into power by entering a coalition with them, which caused the Liberal Democrats to suffer a cataclysmic decline in popularity.)
Sadly, at no point in Dave Snooty and his Pals did the title character inspire his comrades to emulate his gentlemanly virtues, or show that he had become their leader because they had deferred to his innate moral worth. This would no doubt have improved the strip enormously.

Powers and abilities
Abilities
Fraternising with proles.
Strength level
His strength is as the strength of ten because his heart is pure.
Weaknesses
Readers and writers find it hard to relate to him.

Paraphernalia
Equipment
Top hat; waistcoat; bow tie.

Notes
1 Source.
Links
Discover and Discuss
Community content is available under
CC-BY-SA
unless otherwise noted.