Little Plum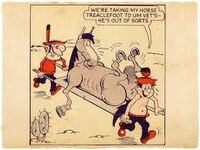 Current alias
Little Plum
Base of operations
Beanotown
Characteristics
Status
Origin
Origin
Normal human birth
History
Little Plum (subtitled 'Your Redskin Chum') was a character who appeared in his own strip in the UK comic the Beano. His first appearance was in issue 586, dated 10th October 1953. He was the first Beano creation of Leo Baxendale, who soon after devised Minnie the Minx and The Bash Street Kids. Plum was given the working title of Booster before his final name was settled on.
Plum was a member of the American Indian Smellyfeet tribe, along with its leader Chiefy, whose enemies were the rival Puttyfeet tribe. The main characters in the strip all spoke in a caricature of the English language as spoken by American Indians, most notably with "um" replacing "the".
The strip introduced several cameo characters, including Plum's horse Treaclefoot, and the 'marvellous creature' Pudding Bison. The success of the strip led to the introduction of other 'Western' themed characters, with Baxendale later creating The Three Bears in 1959.
Baxendale left D.C. Thomson in 1962 and for a short period Robert Nixon became the strip's artist, with Ron Spencer later taking over as permanent artist. Like Baxendale before him, Spencer would go on to draw another strip based in North America, as he later drew Baby-Face Finlayson, who first appeared as a minor character in Little Plum.
The strip's original run ended in 1986, though he was occasionally seen for some time afterwards in Readers' Request features, and he continued to appear in the Beano book up to the 1994 edition. He also made a short return to celebrate the Beano's 60th birthday in 1998, this time under the title of 'The Legend of Little Plum', illustrated by Tom Paterson.
The strip returned to the comic four years under under its original title, drawn by Hunt Emerson. He drew it until 2006 when it was replaced by Ratz, with the last new strip published in the Beano appearing in January 2007. He later returned in the spin-off BeanoMAX, before returning to the comic itself in late 2010 as reprints of the Hunt Emerson strips. However, this time all uses of "um" which had been present in the original strips were removed.

Powers and abilities
Abilities
Typical Native American skills such as hunting, tracking, manufacturing things, etc.
Strength level
Juvenile human male who gets regular strenuous exercise, as he is fortunate enough to live in an era before the invention of the PlayStation.
Links
Discover and Discuss
Community content is available under
CC-BY-SA
unless otherwise noted.