The Lord Protector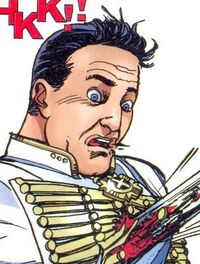 Real name
Konstantin Romanov
Current alias
The Lord Protector
Characteristics
Origin
History
Konstantin Romanov is a character from the 2000 AD strip Nikolai Dante. He was the son of Dmitri Romanov, and shared his father's ruthlessness, as well as his disdain for the adventurer Nikolai Dante, Dmitri's illegitimate son and Konstantin's half-brother. Forced to tolerate Dante's presence as a member of the family, Konstantin made no secret of the fact that he wanted him dead, and that only the inexplicable fondness which his mother Jocasta had developed for Dmitri's bastard stayed his hand.
In the end, it was Dante who tried to kill Konstantin, stabbing him in the back during the battle of New Moscow. Konstantin secretly survived thanks to the science of Tsar Vladimir, his family's hereditary enemy, and was appointed "Lord Protector" by him, his identity hidden behind his armour and his loyalties warped by his experiences. Dante eventually learned the Lord Protector's secret and killed Konstantin in hand-to-hand combat.

Powers and abilities
Powers
Konstantin's Weapons Crest enabled him to create nuclear fusion and generate energy blasts.
Abilities
Armed combat.
Strength level
Peak human male.

Paraphernalia
Weapons
Weapons Crest.

Notes
In addition to wanting to kill his half-brother, Konstantin also killed his sister, Nastasia. He really wasn't very keen on his family. Oh, and his murder of Tsar Vladimir's daughter Juliana started the Civil War.
Links
Discover and Discuss
Community content is available under
CC-BY-SA
unless otherwise noted.