Killpower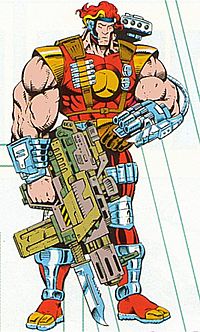 Real name
Julius Mullarkey
Relatives
Oonagh Mullarkey (mother)
Characteristics
Origin
History
Julius Mullarkey, alias Killpower, was a genetically engineered super soldier created by the scientist Oonagh Mullarkey (whom he regarded as his mother). He was aged to adulthood at an accelerated rate, becoming fully mature at eighteen months old, but retained a childlike mentality with no real grasp of right or wrong or of the value of human life. This began to change when his 'employers', Mys-Tech, sent him to capture the teenage superhuman Motormouth and he instead became attached to her and joined her as her partner. After a short career as a superhero, Killpower was trapped in Hell and tricked by the demon Mephisto into believing his friends had abandoned him. Returning to Earth with a army of demons, he sought revenge, but eventually realized he had been tricked and remorsefully allowed Britain's superhuman defenders to kill him.

Powers and abilities
Abilities
Instinctive ability to understand, operate and rebuild any form of machinery. Enhanced speed, agility and reflexes.
Strength level
Superhuman
Weaknesses
Not very bright.

Paraphernalia
Weapons
Lots and lots of guns.

Notes
Killpower was also one of the main characters in the limited series Battletide.
Links
Discover and Discuss
Community content is available under
CC-BY-SA
unless otherwise noted.