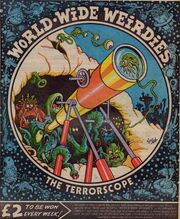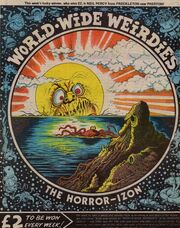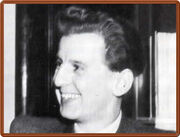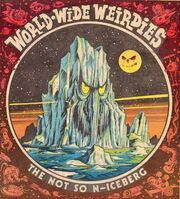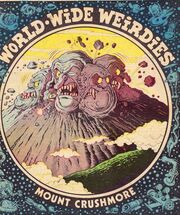 Ken Reid was born in Manchester on the 18th December 1919. He attended Salford Art School on a scholarship after leaving school at the age of thirteen, but was expelled for truancy before graduating. He briefly and unsuccessfully worked as a commercial artist, but found his true calling when he created Fudge the Elf for the Manchester Evening News, the strip appearing from 1938 to 1941 (when Reid was called up) and then again from 1946 to 1963.
In the late 1940s Reid worked briefly on Comic Cuts on strips including Foxy, Super Sam and Billy Boffin, before being invited by publishers D.C. Thomson to contribute to The Beano. Reid created Roger the Dodger, who debuted in the Beano on 18th April 1953 and continues to appear today. He continued to work for D.C. Thomson until 1964, creating several well-remembered strips and characters for both the Beano and its sister comic the Dandy, including the hapless Jonah, dynamite-obsessed Wild West character Bing Bang Benny, Ali Ha Ha and the Forty Thieves, Big Head and Thick Head, Jinx, Little Angel Face and the elderly delinquent Grandpa.
On leaving D.C. Thomson, Reid moved to Odhams where he worked on Wham!, Pow! and Smash, developing an interest in comic horror with creations such as Frankie Stein and The Nervs (which he took over from Leo Baxendale), as well as characters and strips like Dare-a-Day Davy, Queen of the Seas and the miserly Jasper the Grasper. In 1971, he created Faceache for Jet, though the strip later found a longer lasting home in Buster, where it ran until Reid's death. By now firmly settled at IPC (which had bought out Odhams), Reid spent the remainder of the seventies and eighties creating various usually horror-themed strips for a variety of comics, including Martha's Monster Make-up (effectively a female version of Faceache) for Monster Fun, Tom Horror's World for Wow!, Robot Smith in Jackpot and, perhaps most memorably, the back-page posters Creepy Creations for Shiver and Shake, which in turn led to the similar World Wide Weirdies and Wanted Posters in Whoopee!. Reid suffered a stroke on 2nd February 1987 while drawing a page of Faceache for Buster, and died in hospital shortly afterwards, depriving the British comics industry of one of its greatest talents.
In 2018, Reid's work for the Odhams Power Comics began to be republished in hardcover collected editions.