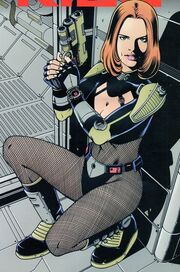 Kek-W is the real name of a comics writer who sometimes uses the pseudonym 'Nigel Long'. He is apparently "a mysterious droid who haunts the ducts between sub-levels 42b and 17h, deep beneath the Nerve Centre."1 Kek-W created the following 2000 AD strips:
He also worked on strips including Canon Fodder, The Grudge-Father, Tharg's 3rillers and Indigo Prime in 2000 AD and the Judge Dredd Megazine.
In September 2022 it was announced that, along with Lew Stringer, he would work on a revival of Wiz War for 'The Monster Fun Halloween Spectacular Special.'

1Source: 2000 AD on Facebook. 2Source: SFX 344, October 2021.