Kaptain Briton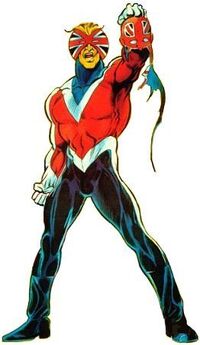 Current alias
Kaptain Briton
Base of operations
Earth-794
Characteristics
Status
Origin
Place of birth
Empire of True Briton
History
Byron Bra-Dhok, alias Kaptain Briton, was a violent and sadistic doppelgänger of Brian Braddock (better known as Captain Britain) from the parallel world designated Earth-794, and was the former lover of the despotic Mastrex Opul Lun Sat-Yr-Nin. He first encountered Captain Britain at the funeral of Merlyn and seemed to be just another of the heroic Captain Britain Corps, a kind of cross-dimensional police force. However, he subsequently resurfaced on Captain Britain's Earth, beat him up and then impersonated him, swapping his costume for the Captain's and giving him to the bounty hunters known as the Technet who were hunting Kaptain Briton himself for the Mastrex.
With Captain Britain out of the way, Bra-Dhok attempted to rape his sister Betsy, but was seemingly unaware of her considerable psychic powers. Betsy hurled the imposter in the shape of her brother across the room and then fried his brain, killing him instantly.

Powers and abilities
Powers
Kaptain Briton presumably has the same powers as the other members of the Captain Britain Corps: superhuman strength, superhuman durability and flight.
Strength level
Superhuman.

Paraphernalia
Equipment
Power-enhancing costume which could transform into any clothing the Kaptain desired at will.
Transportation
He can fly.

Notes
After Kaptain Briton' death Betsy wore his costume, enabling her to fill the rôle of Captain Britain while her brother was away.
Links
Discover and Discuss