Judge Schmaltz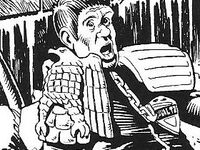 Characteristics
Status
Origin
History
Judge Schmaltz is a character from the 2000 AD strip Judge Dredd. He was one of the few Judges who remained loyal to Judge Dredd when the insane Judge Caligula took over Mega-City One. This was because was a Judge-Tutor at the Academy of Law, and therefore didn't have to listen to the daily crime briefings that Cal used to brainwash the rest of the Judges. Schmaltz's loyalty in part compensated for the fact that he was a deeply boring and mawkishly sentimental man. He was mortally wounded when the resistance fled to the undercity, and took an irritatingly long time to die.
Schmaltz's corpse was placed in the cab of the roadliner in which the resistance had entered the undercity, set alight and pushed off into the hideously polluted Ohio river, now known as the 'Big Smelly'.

Powers and abilities
Abilities
Teaching; seems to have some medical knowledge (he said that one of the Judges injured in the fight against Cal wouldn't last the night).
Strength level
Human male who is either too old or too injured to be no use as a street Judge.
Weaknesses
Talks too much.

Paraphernalia
Equipment
Accessory pouch containing three heatseeker shells; helmet containing internal visor display (including infra-red) and respirator; uniform made from plasti-steel reinforced material; lace-edged handkerchief (for some reason).
Transportation
Lawmaster bike; Genmo DX3 roadliner with crash-proof command capsule.
Weapons
Lawgiver handgun which can fire six types of shell: heatseeker, rubber ricochet, incendiary, armour-piercing, high explosive and standard execution. Also daystick and bootknife.
Links
Discover and Discuss
Community content is available under
CC-BY-SA
unless otherwise noted.