Johnny Red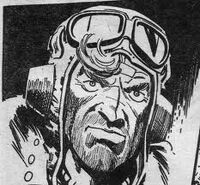 Base of operations
1940s Russia
Characteristics
Status
Origin
Origin
Normal human birth
History
John Redburn, the eponymous protagonist of the comic strip Johnny Red, was a cadet unjustly discharged from the RAF during World War II for striking a training instructor. He stole a Hurricane in the heat of battle and piloted it into Russia where he ended up serving with the disenfranchised pilots of Falcon Squadron, equally unjustly accused of cowardice for surviving what should have been a suicidal rearguard action. Johnny fought alongside the Falcons from then on, all the time knowing that if he went home, he faced a court martial.

Powers and abilities
Abilities
Flying planes.
Strength level
Peak human male.
Weaknesses
Hot temper.

Paraphernalia
Transportation
Aeroplanes.
Weapons
Yes.

Notes
Johnny was originally stated to have been discharged after striking and seriously injuring Flight Lieutenant Coppel, but in later instalments it is stated that he killed him. Perhaps Coppel died from his injuries at a later date.
Among the writers of Johnny Red was Tom Tully. Artists included John Cooper (who drew 270 episodes) and Carlos Pino.
Johnny returned courtesy of Titan Comics in 2015 in Garth Ennis's Johnny Red limited series.
Links
Fan-Art Gallery: Johnny Red
Discover and Discuss