Johnny Lawless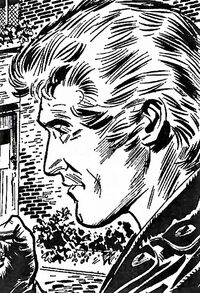 Affiliation
The E.S.C.; himself
Relatives
Sid (uncle); Winston (nephew)
Base of operations
Mews flat in London
Characteristics
Status
Occupation
Secret agent; former thief
Origin
Origin
Normal human birth
First appearance
Last appearance
History
Johnny Lawless is the protagonist of the Tornado strip The Lawless Touch. He was a professional thief blackmailed by the European Special Corps (E.S.C.), a shadowy intelligence agency he referred to as the 'Eurofuzz', into acting as a secret agent for them. Had he turned down their offer of employment, he would have been arrested for theft. Fortunately for Lawless, the work they offered him was both exciting and lucrative, as it offered him frequent chances to pocket unconsidered trifles which otherwise would have remained in the hands of criminals. Um, even worse criminals.
The E.S.C. apparently operated outside the law, had no official existence, and recruited all their top agents from the criminal underworld. It is possible that they were an earlier version of the Special Corps which later employed Slippery Jim DiGriz, a.k.a. the Stainless Steel Rat. Lawless undertook several missions for them, including one which brought him into conflict with the Volgans prior to their invasion of Britain. He reported to a beautiful but ruthless foreign woman codenamed 'Mother'.

Powers and abilities
Abilities
Climbing up the outside of buildings; safe-cracking; picking locks; deactivating alarm systems; swimming; unarmed combat; making his own gadgets.
Strength level
Young human male who gets regular strenuous exercise.

Paraphernalia
Equipment
Gas-powered grappling hook; amplified stereo stethoscope built into his motorbike helmet (for cracking safes); helmet with a lamp in it; pitons; ropes; shoes that can squirt out blinding smoke; light and noise grenades; teargas grenade; device for detecting landmines; explosive key (for breaking unpickable locks); gadget for winning at fruit machines; scuba diving gear; eavesdropping device.
Transportation
Kawasaki motorbike; collapsible hang-glider; hijacked London double-decker bus; Lockheed C-130 Hercules; Panavia Tornado aircraft.

Notes
The Lawless Touch ran in Tornado #11 to #22, and in the 1981 edition of the Tornado Annual. It was reprinted in its entirety in The Lawless Touch Vol 1, given away free with the Judge Dredd Megazine in 2017.

Trivia
'Mother' may have been inspired by the Mother to whom John Steed reported in The Avengers.
Links
Fan-Art Gallery: Johnny Lawless
Discover and Discuss