Joe Pineapples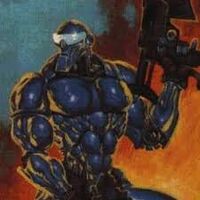 Characteristics
Unusual features
He's a robot
Status
Occupation
Sniper; former police firearms instructor; former undercover cop; former contract killer
Origin
First appearance
Last appearance
History
Joe Pineapples was one of the first members of the robot commando unit the ABC Warriors, and is an expert marksman, once described as the best sniper in the world. He joined the Warriors after being kicked out of the elite X-Terminators squad for seducing the wife of a (human) superior officer. Joe assassinated the Volgan robot General Blackblood, who was then rebuilt and reprogrammed to work for the ABC Warriors, and Blackblood has hated him ever since.
Originally, Joe only spoke in code, though he has since adopted standard English. Following the original dissolution of the Warriors, he became first a police firearms instructor on Earth, and then a police detective on the robot free world of Mekka. He has since rejoined the Warriors and has now spent several centuries more or less continually in service with them (aside from a brief period as an assassin for the Terran government).

Powers and abilities
Abilities
Crack shot.
Strength level
Superhuman.
Weaknesses
Mentally somewhat odd, even for a robot.

Paraphernalia
Weapons
Balls Bazooka; Magnum Macho-3000 sniper-rifle.

Notes
Joe once displayed a penchant for dressing up in female clothing (sometimes patterning himself on Ginger Rogers), and also kept a human heart in his chest locker. He seems to have since abandoned both of these rather strange affectations, thankfully.

Trivia
Simon from the Survival Geeks has a model of Joe Pineapples in his bedroom.
Links
Discover and Discuss
Community content is available under
CC-BY-SA
unless otherwise noted.