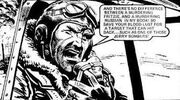 Joe Colquhoun (1926-1987) was a comics artist originally from Harrow, Middlesex, who sometimes also worked under the pseudonym Stewart Colwyn. He began working in comics in Jungle Trails in 1951, and spent most of his lengthy career working for IPC on titles including Lion, Tiger, Jag, Battle Picture Weekly, Buster and Cor!!. Strips he worked on included Johnny Red, Soldier Sharp and Roy of the Rovers, but he is undoubtedly best known for his work with writer Pat Mills on the World War One epic Charley's War, probably one of the best war stories ever produced in comics, which benefited immensely from his skill and attention to detail, and his particularly detailed knowledge of military equipment and uniforms. After Charley's War ended in 1986, Colquhoun went on to draw for M.A.S.K until his death in 1987.

Community content is available under
CC-BY-SA
unless otherwise noted.