Prosser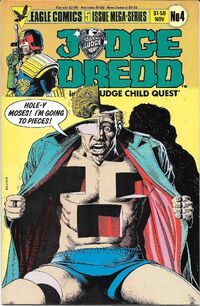 Characteristics
Status
Origin
History
Prosser was the pilot of a starship hijacked by the Angel Gang to take them to the planet Xanadu with the Judge Child. The gang told Prosser he would be well paid for cooperating with them, but he became uneasy and asked the Judge Child whether he would get his money. The mutant boy predicted that a disease would take Prosser so he would never enjoy his payment, and the Angels, fearing infection, cast him adrift in an escape pod. He landed on the planet Ab, where he contracted Jigsaw Disease, a bizarre alien virus that causes sections of the victim's body to vanish (leaving the remainder still operating normally) until nothing is left.
The frantic Prosser attempted to steal what he thought was a cure, but the pills were merely a mercy drug which accelerated the progress of the invariably terminal condition. Judge Joseph Dredd found and interrogated Prosser shortly before he finally vanished altogether. Prosser's final words were a warning: "Your precious Judge Child is evil!"

Powers and abilities
Abilities
Flying spaceships.
Weaknesses
Tends to go to pieces under stress.
Links
Discover and Discuss
Community content is available under
CC-BY-SA
unless otherwise noted.