Jena Makarov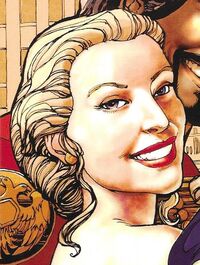 Real name
Eugenia Vladimirovna Makarov
Current alias
Jena Makarov
Base of operations
Russia
Characteristics
Status
Origin
First appearance
Last appearance
History
Jena Makarov is a character from the 2000 AD strip Nikolai Dante. She is the daughter of Tsar Vladimir the Conqueror, ruler of a new Russian empire in the 27th century. Jena has a tempestuous relationship with Nikolai Dante, a charming rogue who is also a bastard son of the (not very noble) noble Dmitri Romanov, the Tsar's deadly rival.
When Dante first came to the Tsar's attention, on trial for the crime of sleeping with an imperial seductress and stealing her underwear, Jena not only demanded his execution but also volunteered to supervise it personally. (Wounded pride may have had something to do with this: it emerged in the trial that the seductress in question had also been sleeping with a certain Captain Arbatov, who was courting Jena at the time.) The Tsar, however, had had Dante gene-scanned and realised that his Romanov DNA meant he was capable of bonding with a Romanov Weapons Crest, a powerful device that gave its host superhuman powers. As instructed by her father, Jena manoeuvred Dante into a position where he could become the host of a Weapons Crest (without his prior knowledge or consent). However, he outwitted her and made his way to the Romanovs before she could take him back to her father to be vivisected so that the Makarovs could learn the secret of the Weapons Crest's abilities.
Dante was more or less drafted into the service of the Romanov family, and indeed into the family itself, much to the irritation of many of his half-siblings. This placed him very much at odds with Jena and her father, but Jena and Dante were attracted to each other despite their families' rivalry, and found themselves in a turbulent, ever-shifting, apparently doomed relationship. The pair tried to stop their two houses going to war with each other, but nevertheless a war was finally ignited when Konstantin Romanov (one of Dante's most detested half-siblings) killed Jena's cherished little sister Juliana Makarov. This seemed to be the final nail in the coffin of Jena and Nikolai's romance.
Following Tsar Vladimir's victory and the apparent death of Dmitri Romanov, Dante was forced into the Tsar's service. He was imprisoned after betraying the Tsar and conspiring to raise an army against him, but Jena found her loyalties divided and eventually chose Dante over her father, freeing him from his imprisonment and running away with him. Jena and Dante raised their army (including Spatchcock and Flintlock, members of Dante's old unit) and mounted a successful revolution against the Tsar, after which Dante proposed marriage and Jena accepted.
Unfortunately, their much deserved happy-ever-after was thwarted by the return of Dmitri Romanov, who had cheated death by taking mental possession of the body of his youngest son, Arkady Romanov (destroying Arkady's consciousness in the process). Seizing the empire, Dmitri announced his intention to forcibly marry Jena. On the day of the wedding, the fugitive Dante, who had escaped capture but lost his Weapons Crest, led a second uprising and Dmitri was finally killed in the course of it. However, Jena and Dante never seem to have found lasting happiness, as a final confrontation with Tsar Vladimir, who ultimately shot himself, caused Dante to miss their wedding. The couple's relationship, plagued by misunderstandings and confusion from the beginning, appears not to have survived this last cruel twist of fate.

Powers and abilities
Abilities
Armed combat.
Strength level
Peak human female.
Weaknesses
Handsome thieves.

Paraphernalia
Transportation
Ravenwing (flying robot horse).
Weapons
Sabre; pistol.
Links
Discover and Discuss
Community content is available under
CC-BY-SA
unless otherwise noted.