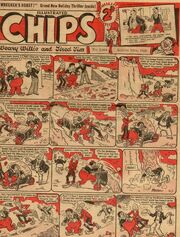 Illustrated Chips was published by Alfred Harmsworth (who also published Comic Cuts) from 26th July 1890 to 30th August 1890, cancelled after six issues, then relaunched from 6th September 1890. It ran for a further 2997 issues to 12th September 1953, latterly published by the Amalgamated Press. From issue #298 (16th May 1896), it featured artist Tom Browne's now legendary tramps, Weary Willie and Tired Tim (originally called Weary Waddles and Tired Timmy), arguably the first great comic heroes, who remained the cover stars of Chips for the next 57 years until the final issue of the title. At its highest point, the circulation of Chips rose to 600,000 copies a week.
Illustrated Chips (the title became just Chips from 6th September 1952) incorporated Joker from 25th May 1940, and was itself merged with TV Fun in September 1953. A weekly title for most of its life, like many British comics, it dropped to fortnightly frequency during World War Two (from 6th September 1941) and only returned to weekly publication on 1st November 1952.
Community content is available under
CC-BY-SA
unless otherwise noted.