Hoagy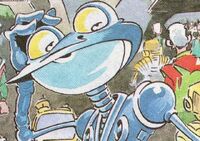 Characteristics
Unusual features
He's a robot
Status
Origin
History
Hoagy was a robot built from a kit by an elderly, childless couple and raised as their own son. When he 'came of age', Hoagy decided he wanted to become apprenticed to the veteran Robo-Hunter Sam C Slade, and set about this by the ingenious (if flawed) method of putting a job ad in a newspaper on Sam's behalf and then applying for the job himself.
Though less than pleased, Hoagy's assistance with the God Droid case convinced Sam (reluctantly) to keep Hoagy on, and he took the dozy droid with him when he relocated to Brit-Cit. Hoagy continued to assist Sam for the remainder of his career, staying in his service for well over fifty years, although Sam did attempt to get rid of the little guy in a fit of pique when Hoagy and his associate Stogie embezzled and spent his retirement fund in order to force him to resume Robo-Hunting (for Sam's own good, as they saw it).
Hoagy has since passed into the service of Sam's granddaughter Samantha, who is continuing the family business.

Powers and abilities
Weaknesses
Hoagy is extremely stupid.

Notes
Being shot in the head once scrambled Hoagy's circuits, unexpectedly leaving him (temporarily) with a genius-level IQ. Curiously though, he turned out to be just as useless as a genius as he had been as an idiot.
Links
Discover and Discuss