Harvey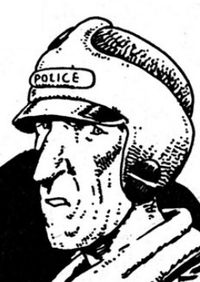 Characteristics
Origin
History
Harvey, who was apparently a police officer, was the original Director of The Doghouse, the orbital base of the Search-Destroy Agency. A bigot who loathed the mutant "Strontium Dogs" under his command, he was eventually murdered by the Stix Brothers on the orders of Nelson Bunker Kreelman. He was succeeded by Sydney.

Powers and abilities
Abilities
Getting on people's nerves.

Notes
The only mutant Harvey seemed to have any (grudging) respect for was Johnny Alpha, probably because he looked almost normal.
Links
Discover and Discuss