Judge Heston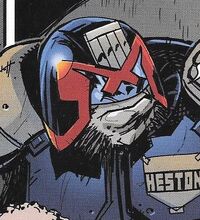 Current alias
Judge Heston
Relatives
Irene Heston (mother, deceased); Harold Heston (father, deceased); Serpico Heston (twin brother)
Characteristics
Unusual features
He's an ape
Status
Education
He read a lot of books
Origin
History
Harry Heston, a super-evolved ape or 'Uplift', was a resident of Mega-City One Municipality #227, a shanty town outside the city's west wall. As a child he was bullied for being the adopted ape child of human parents, and for his love of reading books rather than watching vids. When he had reached adulthood, his father was murdered by criminals from whom he had unwisely borrowed money which he was unable to repay. An idealistic and genuinely decent person, Harry was inspired by The Comportment of a Judge, a policing manual by Judge Joseph Dredd, to don a Judge's uniform and bring the law to his home. Unfortunately, this caused him to be branded a Jimp (Judge impersonator) and to fall foul of his hero. After serving a term of imprisonment, Heston was drafted as a Justice Department auxiliary and sent to investigate skulduggery on a banana plantation on Krong Isand. He was eventually given a badge and uniform by Judge Dredd and made the official Justice Department presence on the island, after bringing in his own criminal twin brother, Serpico (a chain of events which closely paralleled Dredd's own experiences with his twin, Rico) .

Powers and abilities
Abilities
Swinging from stuff.
Strength level
Quite strong, since he's a gorilla.

Paraphernalia
Equipment
Judge's uniform;
The Comportment of a Judge
, by J. Dredd, his most treasured possession.
Weapons
Daystick.

Notes
Harry's face, like that of his hero Dredd, is never shown. He is always drawn with his face out of sight, in shadow, or obscured by something else — bandages, a dropped book and, of course, his helmet.
Links
Discover and Discuss
Community content is available under
CC-BY-SA
unless otherwise noted.