Harmony Krieg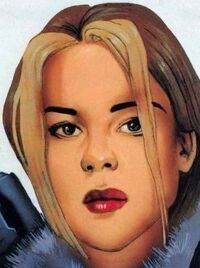 Base of operations
Uranium City
Characteristics
Status
Occupation
Bounty hunter and mercenary
Origin
Origin
Normal human birth
History
Harmony Krieg is a bounty hunter and gun for hire who operates out of Uranium City, in the frozen wastes of what used to be Alaska. She is a natural cynic with a dry sense of humour and a hatred of big business.

Powers and abilities
Strength level
Peak human female.

Paraphernalia
Weapons
Yes.

Notes
Harmony was based in the same continuity as Judge Dredd.

Trivia
'Krieg' is German for 'war'.
In Graeco-Roman mythology, Harmonia was the daughter of Venus (goddess of love) and Mars (god of war).
Links
Fan-Art Gallery: Harmony Krieg
Harmony Krieg quotations
Discover and Discuss