Gwen Stacy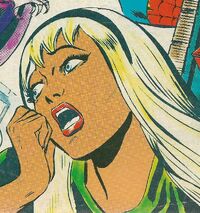 Real name
Gwendolyne Stacy
Relatives
George Stacy (father, deceased); Arthur Stacy (uncle)
Characteristics
Status
Origin
History
Gwen Stacy was the most popular girl in school, so nobody really understood what she saw in Peter Parker, the shy bookworm. Unfortunately for Gwen, her boyfriend was secretly Spider-Man, and hanging around in his orbit led to a number of personal tragedies, not least of which was the death of her beloved father, Police Captain George Stacy, who was killed by a falling chimney while saving a chid endagered by a fight between Spidey and the villainous Doctor Octopus. Gwen didn't have long to grieve, though, as not that long afterwards she herself was kidnapped by the Green Goblin (who knew Parker's secret identity and wanted revenge on him) and hurled to her death from the Brooklyn Bridge. Spidey tried to catch her with his webbing, but the sudden stop snapped her neck, killing her instantly. Gwen never even knew what she'd done to deserve it.
Ironically, it's rumoured that Gwen died shortly before she was due to finally get that bloody Alice Band surgically removed from her head, a procedure she'd clearly been waiting for since 1964.

Powers and abilities
Abilities
Panicking
Weaknesses
Men in tights.

Paraphernalia
Equipment
Go-Go boots

Notes
Most, but not all, of Gwen's appearances in British comics were reprints of American material.
Links
Images that feature Gwen Stacy

Fan-Art Gallery: Gwen Stacy

Gwen Stacy quotations
Discover and Discuss