Guledig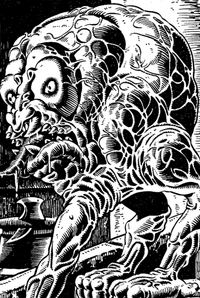 Characteristics
Unusual features
Is more or less a ugly lump with three legs
Status
Occupation
Lord of the Cythrons
Origin
History
The Guledig is a character from the 2000 AD strip Sláine. He was the dark lord of the alien Cythrons, a twisted race of pre-human aliens that sought to alter history by creating wars and use humans as food stock. Their ranks included the brutal Gressil, the sadistic Oeahoo and the expert torturer Myraakothka, who all took their lead from the Guledig's thoroughly evil nature. He in turn worshipped the revolting worm-god Crom-Cruach.
When the Guledig's half-human, half-Cythron son Myrddin learnt of his father's plans to resurrect the dark god Grimnismal, he summoned the Celtic warrior Sláine to stop him. Once the Myrddin was captured, the Guledig attempted to sway him over to the dark side, but Myrddin refused.
The Guledig's plans were thwarted when Sláine killed Grimnismal with the help of King Murdach by cutting off its feeding tubes. This caused Grimnismal to go insane and explode. Afterwards, the Guledig vowed revenge. But really, if your god is as feeble as that then you probably shouldn't have been worshipping it in the first place.
The Guledig has encountered Sláine several other times, at one point trying to alter history with the death of King Arthur. More recently he trapped Sláine in an altered timeline, forcing him to fight against his old foes including Medb, Slough Throt, Elfric, El Women, Moloch and Lord Weird Slough Feg. This failed and the Guledig retreated.

Powers and abilities
Abilities
The Guledig is a lot more agile than he looks and seems to have vast psychic powers.
Weaknesses
Perhaps too lenient/indulgent towards his son Myrddin.

Paraphernalia
Transportation
Cythron ships.
Links
Discover and Discuss
Community content is available under
CC-BY-SA
unless otherwise noted.