Gorehead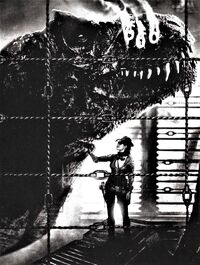 Affiliation
Enemy of Trans-Time
Base of operations
Cretaceous era
Characteristics
Unusual features
He's a dinosaur
Status
Origin
Origin
Caught in time reactor explosion
Place of birth
Cretaceous era
History
Gorehead is a character from the 2000 AD strip Flesh, which features the ethically dubious activities of the Trans-Time Corporation. He was a tyrannosaur who helped other tyrannosaurs assault Trans-Time Base 3, an outpost in the Cretaceous era using time travel technology to transport dinosaur flesh to the 23rd century. Gorehead was hiding inside the body of a dead alamosaur when the base's time reactor exploded. The explosion imprinted the blood of the alamosaur on the tyrannosaur's head, hence his name. It also gave him the ability to travel in time. Gorehead went on to attack a Trans-Time employee called Boots McGurk, who branded his head three times with the symbol of Trans-Time Base 6. This left Gorehead with the number 666 seared on his forehead, convincing the Christian extremist Pastor Sunday that Gorehead was the beast of the apocalypse featured in the Bible's Book of Revelation.
Vegas Carver, an eco-terrorist, was able to calm Gorehead's savage temper using a technique she had been taught by her father, the criminal Claw Carver. She helped Gorehead to kill all the other candidates for the US presidency so that a secret member of Angry Planet, her eco-terrorist organisation, would be elected. The new president, Butler, told Trans-Time to stop farming dinosaurs, but it ignored them. Meanwhile, in the Cretaceous era, Gorehead killed the man who had branded him and was then apparently drowned in a swamp.
The tyrannosaur later surfaced from his swamp in time to get involved in a confrontation between Claw Carver, Vegas (whom Claw had been ordered to kill) and Pastor Sunday, who had murdered Claw's wife. Sunday was shot by Carver and then swallowed whole by Gorehead, who proceeded to stamp on the ground in a strange rhythm that summoned a tyrannosaur stampede.

Powers and abilities
Powers
Time travel.
Abilities
Biting; gouging; slashing; tearing; eviscerating; etc. Also seems to have an enormous lung capacity.
Strength level
Superhuman.

Paraphernalia
Weapons
Teeth and claws.
Links
Discover and Discuss
Community content is available under
CC-BY-SA
unless otherwise noted.