Giya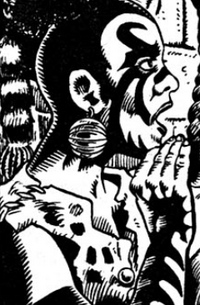 Characteristics
Unusual features
Tattoos across body
Origin
History
Giya is a character from the 2000 AD strip Sláine. She was a young tribal girl plucked from time by the Cythrons at an unknown date.
Giya was tortured and experimented upon by the Cyth dominatrix Oeahoo shortly before being given to a group of Orgots. Initially she was going to be eaten alive by the Orgots, but she was able to escape when she was accidentally rescued by the arrival of Sláine, Ukko, the druidess Nest, Oeahoo (working for them under duress), the Celtic warrior Calgacus, the Atlantean warriors Mogrooth and Tlachtga, and the wizard Myrddin.
The group brought Giya along with them, feeling pity for her. Sadly she was with them for only a short amount of time before she was set upon by a giant rat that pulled her into a sewer tunnel where Giya was eaten alive. Poor girl escaped being eaten, only to be eaten.

Powers and abilities
Abilities
Running; screaming.
Strength level
Young human (probably) female.

Paraphernalia
Transportation
Walks.

Notes
It's not known what her actual name was, but due to her saying the word "giya" an awful lot, that's what Ukko and co. decided to name her.
Links
Discover and Discuss
Community content is available under
CC-BY-SA
unless otherwise noted.