Georgi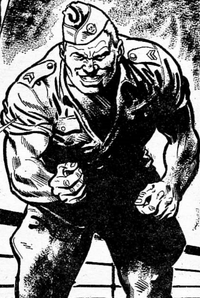 Characteristics
Status
Origin
Origin
Normal human birth
Place of birth
Volgan republic
Place of death
At the end of a missile
History
Georgi was sent to Britain to act as a spy, intending to keep a watch and trace Bill Savage. To do this he posed as an American soldier named George who had been stranded in the UK.
He staged an encounter with a Volgan squad for Savage and Peter Silk, and helped them out, killing his own men in the process to seem more convincing.
Georgi joined them, and followed them on a boat to America, leaving a trail for his Volgan comrades. Silk caught him in the process at one stage, and so Georgi murdered him, causing Savage much despair. Eventually the Volgs caught up and Georgi revealed his true colours. After receiving a savage beating from Georgi, Bill found a missile launcher in one of the ship's compartments and shot Georgi with it, obliterating the Volg and avenging Silk.

Powers and abilities
Abilities
Brilliant spy.
Strength level
Very strong for a normal man.
Weaknesses
Rocket launchers.

Paraphernalia
Transportation
Jeep; ship.
Links
Appearances of Georgi

Fan-Art Gallery: Georgi

Georgi quotations
Discover and Discuss