Garth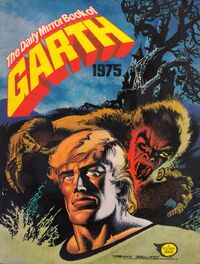 Base of operations
Mobile
Characteristics
Status
Origin
History
Washed up on a beach in the mid 1940's, the seemingly ageless Garth had no memory of who he was or where he came from. He nevertheless embarked on a series of adventures which lasted several decades and saw him bounced through time and space by a variety of methods. Along the way, he met his patron and true love, the goddess Astra, who to an extent guided his travels, as well as his close friend Professor Lumiere.

Notes
Garth was one of Britain's (and indeed the world's) longest running newspaper strip stars, his adventures running in the Daily Mirror from 24th July 1943 to March 22nd 1997 when he was unceremoniously retired. He has since returned to the Mirror in reprint form.
Garth was co-created by writer Don Freeman, who also wrote Jane. His first artist was Steve Dowling, but John Allard also drew episodes in the strips early years and took sole control from 1968-1971 after Dowling retired. Dick Hailstone also worked on the strip with Dowling from 1946-1948. Following Allard's departure, arguably Garth's most popular period came under the stewardship of writer Jim Edgar and artist Frank Bellamy, who turned Garth from a typical square jawed hero figure in to a paragon of human perfection, and added an element of eroticism to the strip with creations such as the Women of Galba. Martin Asbury took over the art chores following Bellamy's death in 1976. Peter O'Donnell also wrote the strip for some years (from 1953-1966) as did Angus Allan.
Fleetway published two 'Daily Mirror Book of Garth' collections in the mid 1970's, and Titan Books published two Garth collected editions in the 1980s. He also featured in The Mirror Classic Cartoon Collection Vol 1 1 in 1998.
Links
Discover and Discuss
Community content is available under
CC-BY-SA
unless otherwise noted.