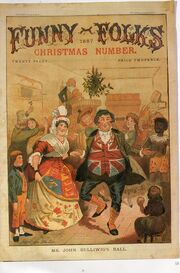 Funny Folks
was launched by publisher James Henderson on Saturday December 12th 1874 (the first edition was actually given away free as a supplement to
The Weekly Budget Christmas Triple Number
for 1874), and was effectively the first comic, though it bore scant resemblance to the comics of today. A successor to satirical cartoon sheets like
Everybody's Album
and
The Looking Glass
, it was a weekly eight-page tabloid with initially a roughly 50-50 ratio of text and pictures (though the picture strips would come to dominate the title), sold for the princely sum of one penny and containing a mix of stories, cartoon strips, puzzles, pictures and various other features. Originally largely satirical in tone and aimed at a middle class adult audience, it gradually shifted focus toward social slapstick aimed at the working classes and, later, to humour aimed at schoolchildren. It lasted for a grand total of 20 years and 1614 issues, until 28th April 1894, when it finally folded as it could not compete anymore in the marketplace with the various halfpenny comics since launched by rival publishers.
Contributors to the first issue included cover cartoonist John Proctor (who drew carictured political comments), G. Montbard (creator of the 'Comic Fancy Page') and Wilhelm Busch (creator of the strip The Tale of a Tooth, reprinted from its original German). Strips included The Horrible Disclosures of S. Probe, Private Detective, and later (in 1875) a recurring strip called Tympkins by cartoonist Shirl. The front page cartoon slot was later taken over by John Stafford, whose nephew Julius Stafford Baker drew (from 1891) a weekly panel starring an Irish labourer, 'Hooligan'.
Funny Folks was an offshoot of Henderson's Lancashire, Yorkshire and Northern Weekly Budget of News, Politics, Tales Etc. (they knew how to come up with a snappy title back then!) which had begun in January 1861 and later became The Weekly Budget in 1874. The Funny Folks Budget was originally intended to be merely a pull out supplement to the Weekly Budget's Christmas number, but its immediate popularity ensured that it would continue as a publication in its own right, the second issue put together virtually overnight. In 1883, Henderson published the first issue of a companion paper, Scraps, which outlasted Funny Folks and eventually transformed into a colour comic, the Merry Thought, in 1910. From 1890, Henderson also published Snap-Shots, an all-reprint title consisting of American cartoons and strips taken from Puck, Judge, Life and Harper's Weekly.