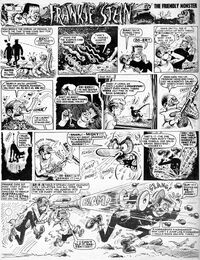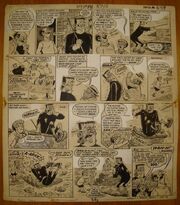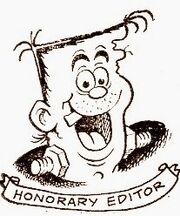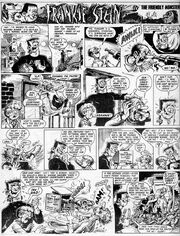 Frankie Stein, a bumbling but good-hearted brute based visually on the Universal films version of the Frankenstein monster, was the first of the outlandish creations spewed forth by the hyper-talented Ken Reid for Wham!, which was the first of the Power Comics put out by Odhams in the 1960s (Wham! was first published in 1964). Ken, of course, had put out sterling work for the Beano, published by D.C. Thomson, since 1953, penning Roger the Dodger, Jonah and Grandpa. But over a decade later, he was offered double his page-rate by the 'Big O'.
After mulling over this considerable offer, he appears to have been torn by at least some partial loyalty towards D.C. Thomson, suggesting to them that if they met Odham's offer half-way, then he would be prepared to stay put. D.C. Thomson responded to this plea with a resounding, unequivocal 'no!'. Therefore, with the temptation of almost unlimited artistic freedom offered by his new publishing house (and the not inconsiderable financial bonus of getting paid for coming up with script ideas: Ken had been embellishing scripts at D.C. Thomson free of charge, as part of his personal perfectionism), Reid quite understandably jumped ship, imitating one of his characters, the hapless sailor Jonah. The waves made by his departure took the form of one of the most astounding comic creations of the 1960s: or, indeed, of any era, anywhere.
After his move to IPC, Frankie first resurfaced in the pages of Shiver and Shake in 1973 before (by now drawn by Robert Nixon) moving over to Whoopee! in October 1974, where he remained until that titles demise in 1985. He also appeared in other IPC titles including Monster Fun (where he acted as 'editor') and his own series of Frankie Stein Holiday Specials from 1975-1982. His long suffering 'Dad', Professor Cube also received his own strip in the 1979 Whoopee! Annual.
The Bob Nixon version was as accomplished as any work graced by his impeccable nibsmanship, and under any other criteria would have endured as the last word, the definitive article on this character----however even fans of the immensely talented RTN have to concede that there is only one 'proper' Frankie for ardent enthusiasts of UK comics------and not even the superior skills of Robert Nixon can compare with the astounding comic masterwork that represents the Ken Reid version.....
Community content is available under
CC-BY-SA
unless otherwise noted.