Flo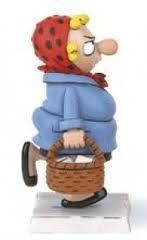 Base of operations
Hartlepool
Characteristics
Status
Origin
Origin
Normal human birth
History
Flo, or 'Florrie', is the long-suffering wife of workshy layabout Andy Capp. She works part time as a cleaner (or 'charwoman') to support herself and her husband (much to the annoyance of her mother), and frequently resorts to violence (often involving a rolling pin) against Andy in retaliation for his drunken, womanising ways. She is, however, ultimately as devoted to Andy as he is to her. She spends much of her time when she isn't working either dodging Percy, the rent collector, or gossiping with her friend and next door neighbour, Rube, the wife of Andy's mate Chalkie White.

Powers and abilities
Abilities
Cleaning things.
Strength level
Human female who has regular exercise.

Paraphernalia
Equipment
Cleaning materials.
Weapons
Rolling pin.

Notes
In early appearances, Flo would frequently be seen with a black eye after either fighting with Andy or being hit by him, but this aspect of their relationship has been removed in these more politically correct times.
Links
Appearances of Flo Capp

Images that feature Flo Capp

Fan-Art Gallery: Flo Capp

Flo Capp quotations
Discover and Discuss