The Ferg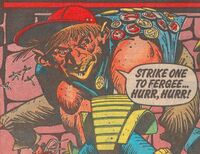 Aliases
King of the Big Smelly
Characteristics
Unusual features
His smell
Status
Origin
Origin
Normal human birth
History
Fergee is a character from the 2000 AD strip Judge Dredd. Known for his distinctive battle cry "Easy the Ferg," he was a mentally subnormal but incredibly strong petty criminal — strong enough to take out a room full of Kleggs using nothing more than a baseball bat — who sought refuge from the Judges of Mega-City One by hiding out underground in the ruined 'Undercity'. There he became the ruler of the population of mutants and outcasts that lived on the banks of the polluted Ohio River: the "King of the Big Smelly."
He was discovered by Judge Dredd, on the run from the tyrannical Chief Judge Caligula, who earned his friendship by beating him in hand-to-hand combat and chucking him in the river. Fergee was happy to assist in the anti-Cal resistance alongside Judge Giant, Judge Griffin, Judge Pepper and others. In fact, his fighting and path-finding skills proved so useful that Dredd made him an honorary Judge. Relishing the chance to be a hero, a gravely injured Fergee ultimately sacrificed his own life to kill Judge Cal, hurling both himself and his foe from the top of the Statue of Judgement.
Dredd had giant memorial statues of Fergee erected throughout the city to commemorate his sacrifice, and there is an annual Fergee Memorial Day. On Boxing Day, 2138 AD, a gigantic balloon shaped like Fergee also featured in the Mayor Dave the Orangutan memorial parade.

Powers and abilities
Abilities
Armed combat; navigation.
Strength level
Above human normal.

Paraphernalia
Weapons
Baseball bat.

Notes
Dredd once, years later, clashed with a giant Fergee robot.

Trivia
Fergee was accompanied everywhere by a swarm of flies which he apparently considered to be his "little friends."
Links
Discover and Discuss
Community content is available under
CC-BY-SA
unless otherwise noted.