El Women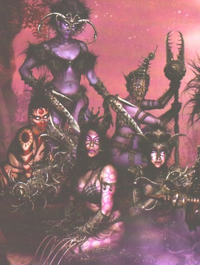 Base of operations
El-Worlds
Characteristics
Unusual features
All very busty demon ladies that are actually big bug things
Origin
History
El-Women are characters from the 2000 AD strip Sláine. They are Dark-Els (get used to the word Els) and are some of the inhabitants of the disturbed El-Worlds, which lie at right angles to our own. Like all Dark-Els they have a fear of iron and have a bloodthirsty nature. When killed they shrivel up into disgusting bug-like husks.
Sláine MacRoth and king Murdach encountered a group of El-Women when stuck in their world. They were savaging a poor Light-El named Pluke who gave the two a lift after they saved him from the El-Women.
Years later, Sláine would encounter another group of El Women (most notably Fann and Sarh) in the dominion of his goddess Danu. They attacked him, and all but one were gruesomely slaughtered. However, being in the home of the Earth goddess, they were all later reincarnated.
Sáaine would later re-encounter the very first group of El-Women he met thanks to time meddling by the Guledig. The El-Women (accompanied by Elfric, another of Sláine's old foes) attempted to kill the Celt but were all swiftly defeated a second time.

Powers and abilities
Abilities
Individuals seem to focus on a single type of weapon to use in combat (whips, swords, big pairs of claws).
Strength level
Superhuman.

Paraphernalia
Weapons
Lots.
Links
Discover and Discuss
Community content is available under
CC-BY-SA
unless otherwise noted.