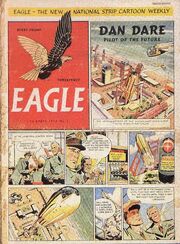 The Eagle, one of Britain's most famous and well remembered comics, was launched by Hulton Press on 14th April 1950. The brainchild of the Reverend Marcus Morris and artist Frank Hampson, Eagle was created to promote Christian values and provide an alternative to the American comics which Morris considered to be well produced but morally repugnant. The lead character, drawn by Hampson, was Dan Dare, a square-jawed space hero originally intended to be a Chaplain of the Future, presumably until someone realized that a Pilot of the Future had rather more dramatic potential. (In a parallel world somewhere children were treated to numerous stories about Dan Dare attempting to baptise the Mekon.)
Other features included Guinea Pig, PC 49, Harris Tweed, Luck of the Legion, Storm Nelson, The Great Adventure, Jack O'Lantern, Mark Question, Riders of the Range and Mann of Battle (drawn by Brian Lewis), among many others. The comic also had educational non-fiction sections dedicated to sport, news and various other subjects.
It was an immediate success with both children and parents, with the first issue selling approximately 900,000 copies. A series of conflicts with the publisher caused Morris to part company with Eagle in 1959, and in 1960 it was taken over by Odhams Press (who were later bought up by Fleetway), with Hampson eventually leaving too due to creative differences and being succeeded on the Dan Dare strip by Frank Bellamy, Keith Watson and Don Harley, and later Bruce Cornwell and Eric Eden.
In 1967 the original Dan Dare strip ceased, replaced by reprints. Declining in both quality and popularity after a number of unsuccessful changes in tone and direction, Eagle was finally cancelled on 26th April 1969 after 991 issues, and merged with its rival Lion. It was eventually revived in 1982 for a further 12 year run, though the second series bore little resemblance to the original aside from the inclusion of a new Dan Dare.
Eagle spawned three 'sister' titles, Girl, Swift and Robin. Eagle Annuals were published from 1952-1975.
Community content is available under
CC-BY-SA
unless otherwise noted.