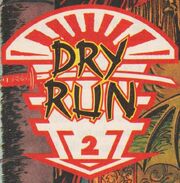 Dry Run was a strip by Tise Vahimagi and Kev Hopgood which was published in 2000 AD progs 688 to 699. It is set on a future Earth where the seas have disappeared (hence the name), making water an extremely valuable commodity controlled by some extremely bad people known as 'warlords'. The main characters are an intrepid band of warrior-telepaths with swords and ponytails. Their telepathy is indicated not by thought bubbles but by speech bubbles with crinkly borders, which is somewhat confusing. Since a well-established convention for the depiction of words that are thought, not spoken, already exists in comics, why not use it?
The series ended with a would-be warlord falling off a cliff (on an innocent horse, which had done nothing to deserve this fate), and our hero riding off into the sunset with a blonde woman he'd rescued in the desert. The series was reprinted in the Quality title Time Killers.
Community content is available under
CC-BY-SA
unless otherwise noted.