Drune Lords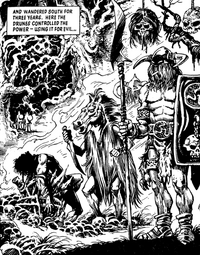 Characteristics
Unusual features
Tend to wear funky animal masks
Status
Origin
First appearance
2000 AD prog 330
History
The Drune Lords are characters from the 2000 AD strip Sláine. They are a group of cultists who worship the dark gods such as Crom-Cruach and are intent on wiping out Tír na nÓg (a large part of what is now Ireland, Britain and Northern Europe). Their dark magic has already warped the land, opening portals to Hel and granting access to otherworldly menaces such as the Broch Demon. The Drunes commit a great number of slaughters and sacrifices in the name of their gods, and their rule is enforced by the barbaric Skull Swords.
The most famous of the Drune Lords was the former Horned King, the Lord Weird Slough Feg, who led the main attack against the Celtic tribes. A large number of Drunes perished during the climax of the 'Horned King' saga, many being slain in battle or being turned on by their own men after Sláine revealed that their masters intended to kill them once their usefulness was over.
Famous Drunes other than Slough Feg include Slough Throt and Slough Thruc. Female Drunes, or 'priestesses of the Badb', are called Drunesses. They include Medb, Fea the Hateful, Nemon the Venomous and Catha the Fury.

Powers and abilities
Powers
Varying degrees of magical powers, Feg being the strongest.
Weaknesses
Despite all the get-up, most of them are still human, and still die just as easily.

Paraphernalia
Equipment
Animal masks.
Transportation
Sky chariots.
Weapons
Sacrificial knives.

Notes
One of the Drune Lords' distinguishing features is their awful smell.
Links
Discover and Discuss
Community content is available under
CC-BY-SA
unless otherwise noted.