Domnall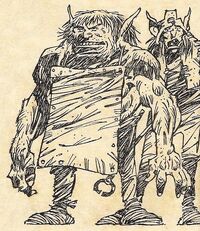 Characteristics
Unusual features
Domnall is a dwarf
Status
Education
Taught by the Titans
Origin
Origin
Normal dwarf birth
History
Domnall is a supporting character from the 2000 AD strip Sláine. He was a dwarf who had previously worked for the Titans, powerful giants who used to rule Tír na nÓg and had known how to make magically enhanced weapons. He then moved to Blind Bran's village and amazed the locals by crafting swords out of strong, non-bendy metal, rather than the flint which was customary in Tír na nÓg. This meant that Bran's flint mine closed and he had to beg to keep body and soul together.
When Sláine MacRoth was injured and recovering in Bran's hut, the dwarf Ukko drained his blood regularly. Sláine discovered to his disgust that Ukko was not doing this for therapeutic reasons, as he had claimed, but so that he could sell the blood to Domnall: the secret of the smith's mighty weapons was that they were tempered in the blood of a warrior. Moreover, Domnall had been luring warriors to his home and draining all their blood to use in his smithy, causing their deaths.
Domnall managed to overpower Sláine and tie him up. He planned to kill him and use his blood to make a sword called War Flame, and also slay Ukko, because he owed him money. Fortunately, Sláine and Ukko were rescued by Bran, who tunnelled up into Domnall's forge. Sláine killed Domnall with his own gae-bolga and gave all the money he had earned making weapons to Bran.

Powers and abilities
Abilities
Making weapons.
Strength level
Male dwarf who works as a weaponsmith.
Weaknesses
As Sláine puts it, "you waste valuable time speech-making."

Paraphernalia
Equipment
Hammer, anvil, tongs, bellows, etc.
Weapons
Lots.
Links
Discover and Discuss
Community content is available under
CC-BY-SA
unless otherwise noted.