Digby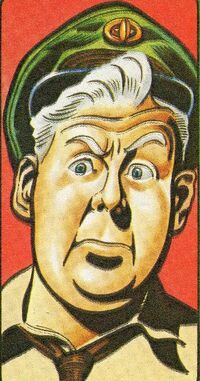 Real name
Albert Fitzwilliam Digby
Characteristics
Status
Occupation
Batman to Colonel Dan Dare
Origin
History
Albert Digby was the loyal aide to Spacefleet's Colonel Dan Dare.

Powers and abilities
Abilities
Presumably pretty good at cleaning shoes and laying out a uniform.
Strength level
Somewhat portly human male who gets regular light exercise.

Paraphernalia
Transportation
Spaceships.

Notes
An apparently identical version of Digby existed in the revised continuity of Dan Dare revealed in the New Eagle in the 1980s, while Digby's great-grandson (also almost identical to the original) became the partner of Dan Dare II.
In the Virgin Comics Dan Dare series, Digby sacrificed his life to save Dare; in the Titan Comics Dan Dare series, he got married. I know which series Digby preferred.

Trivia
Dare named his spacecraft, the Anastasia, after Digby's Aunt Anastasia.
Links
Discover and Discuss
Community content is available under
CC-BY-SA
unless otherwise noted.