The Dictators of Zrag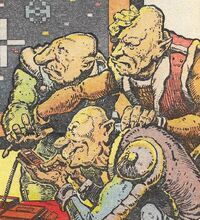 Real name
The Dictators of Zrag
Relatives
The Hag of Zrag (mother)
Base of operations
The Tower of Utmost Nastiness
Characteristics
Status
Origin
History
The Dictators of Zrag are the arch-enemies of Tharg, dedicated to the destruction of him and all he holds dear. For some reason they have never quite got round to defeating Tharg, so goodness only knows how they manage to maintain a stable dictatorship. When their mother, a witch, transformed them into Mega-City One judges and they tried to arrest Tharg, he brought judges to life from the pages of his comic and they ended up being arrested themselves. Encased in riot foam, they were forced to sign copies of 2000 AD for thousands of devoted fans: truly a fate worse than death.
In 2000 BC the Dictators of Zrag unleashed a plague of Thrill-Suckers in the advanced prehistoric civilization of Atlantis, causing its destruction: the operators of Weather Control could see that the weather was getting catastrophically bad, but couldn't be bothered to do anything about it. The city drowned.

Powers and abilities
Abilities
A certain low cunning, coupled with brute strength and a total disregard of politeness, gentlemanly behaviour and personal hygiene.
Strength level
Not nearly as great as that of Tharg.
Weaknesses
Regularly attempt conquest and are just as regularly defeated (a bit like Daleks).

Paraphernalia
Weapons
(When disguised as judges) Niffgivers firing six kinds of smell, ranging from knockout through lethal to unbridled stench.
Links
Discover and Discuss