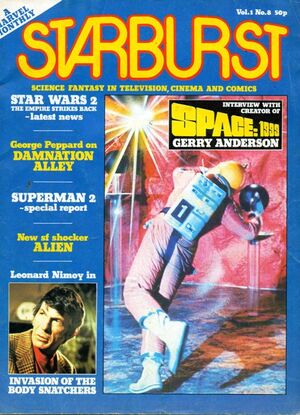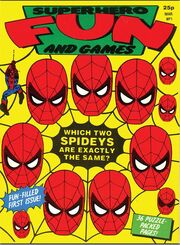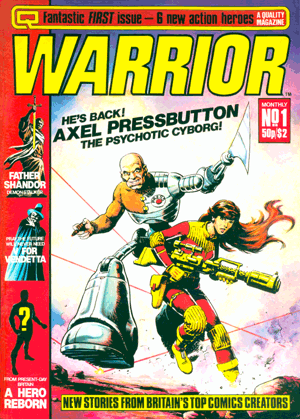 Derek 'Dez' Skinn (born 4th February 1951), whose website is
here
, is a comics editor and publisher who entered the industry in the early 1970s after working for the Yorkshire Post newspaper group, working initially for companies including
IPC
(where he was sub-editor on
Whizzer and Chips
,
Cor!!
and
Buster
) and the comics publishing arm of Warner Bros. (where he edited
Tarzan
,
Korak
,
Mad Magazine
and
Laurel & Hardy
and launched
House of Hammer
) and then starting up his own company,
Starburst Magazines Ltd
.
By 1979, Skinn was in financial trouble, but luckily he wasn't the only one: Marvel UK, the British reprint division of America's Marvel Comics, was also in dire straits, having pretty much run out of things to reprint! Drastic changes were needed to revitalize the flagging company, so Stan Lee hired Skinn (in the role of Editorial Director) to make them, based largely on his foresight in tapping into the newly popular science fiction market with Starburst. The result was Skinn's 'Marvel Revolution'. This involved revamping the entire line of weekly titles, initially making them look more like traditional British comics, and expanding the line of monthly magazines, including bringing Starburst over to Marvel.
Skinn also introduced new, UK-originated material in titles such as Hulk Comic and Doctor Who Weekly (employing the talents of both established creators such as IPC veteran John Stokes, and promising newcomers like the then largely unknown Alan Moore), and gave the company formerly just known as "British Marvel" a real identity of its own as "Marvel UK", complete with logo.
Skinn even had his own regular column on the letters pages from which to announce new developments: Sez Dez, effectively a British version of Stan Lee's long running Stan's Soapbox column in America. He also introduced a moderately successful line of reprint digests, the Marvel UK Pocket Books.
After a little over a year at Marvel UK, Skinn started up on his own again, creating Quality Communications (originally Quality Periodicals), and launching the groundbreaking Warrior magazine in 1982 (featuring strips including Marvelman, V for Vendetta and Skinn's own creation, Big Ben, The Man With No Time for Crime).
Sadly, Warrior was dogged by problems and ultimately didn't last long. Neither did Halls of Horror, or the Quality Comics line of 2000 AD reprint titles (see also Eagle Comics) but Skinn did have a quite unprecedented level of success with the British comics industry's premiere trade magazine, Comics International, which he ran for 16 years (and which conspicuously failed to survive for very long after his departure). He has since published The Jack Kirby Quarterly, has written a number of books on comics, and written a regular column in Comic Heroes.
Community content is available under
CC-BY-SA
unless otherwise noted.