Devlin Waugh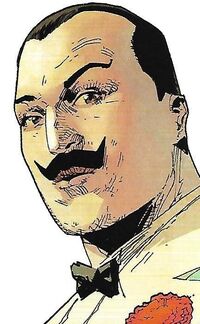 Aliases
The Pink Penetrator; the Camp Vamp; the Tooth Fairy
Relatives
Magnus Waugh (father); Stella Waugh (mother); Freddy Waugh (brother)
Characteristics
Unusual features
He's a vampire
Status
Origin
History
Born somewhere around 2075, the Eton-educated son of an actress and an Egyptologist, Devlin Waugh is a sadistic vampiric gay exorcist who works on a freelance basis for the Judges of Vatican City. Best described as a cross between Arnold Schwarzenegger and Noel Coward with the face of Terry Thomas, the camp vamp has had a interesting career during which he has fought everything from other vampires to a supernatural assassin, and has even teamed up with Judge Dredd... although the pair got off to a bad start during a brief encounter at customs when Devlin attempted to gain entry to Mega-City One for a cat breeders' show. Devlin will not hesitate to risk un-life and limb for the sake of the greater good, though he does insist that everything stops for tea at four o'clock. His hobbies include bodybuilding and flower arranging.

Powers and abilities
Powers
Standard vampiric powers.
Abilities
Torturing captives; unarmed combat; painting; playing the piano; mastery of Kem Kwong killing techniques; administering first aid; interior decorating.
Strength level
Stronger than an average human.
Weaknesses
Used to have a problem with sunlight, before being bitten by the daywalking vampire Lilith. Still needs to drink blood daily to stop himself going on an uncontrollabe murderous rampage.

Paraphernalia
Equipment
Cigarette holder; cigarette lighter; snuff box; extensive collection of vintage European erotica; pet cat called Grendel.
Transportation
Pleasure schooner.
Weapons
High calibre shotgun; spiked knuckledusters; blowtorch.

Notes
Devlin Waugh debuted in the relaunched Judge Dredd Megazine #1 in 1992, but later transferred to 2000 AD in prog 1150.
Devlin featured in a one-page humour strip written by Matt Smith and drawn by Jock in the 2000 AD 40th Anniversary Special. He was shown attending a party with some other Judge Dredd supporting characters which was abruptly terminated when Dredd (described by Devlin as "a frightful party-pooper") showed up.

Trivia
Devlin's brother Freddy is a professional gambler and pornographer who sold his soul to the devil.
Dev narrowly escaped being called 'Dirk Devlin, Sin Eater'. He is now named after famous pessimistic Catholic author Evelyn Waugh (who incidentally mentions comics in his Sword of Honour trilogy).
Links
Discover and Discuss