Demi Octavo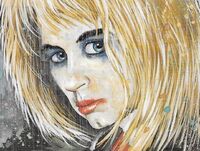 Base of operations
Imelda Prospekt, Downlode
Characteristics
Status
Occupation
Crime boss; former nightclub singer
Origin
Origin
Normal human birth
History
Demi Octavo is a character from the 2000 AD strip Sinister Dexter who came to the city of Downlode as a young runaway. She got a job as a courier and worked her way up until she was a professional nightclub singer and unhappily married to 'Holy Moses' Tanenbaum, the city's top mob boss. Eventually, Demi had Moses assassinated and became 'Queenpin' of the city's rackets (following a short interlude in which she went on the run from Moses' vengeful family by pretending to be a nightclub singer called Bikini Atolls, and then killed Downlode's biggest remaining mob boss, the Czar, with a gigantic reprogrammed cyborg alligator).
At Demi's side throughout her reign were her trusted gunsharks Finnigan Sinister and Ray Dexter, who divided their time between protecting Demi, rubbing out her enemies, and babysitting her little sister Billi. Sadly Demi, who was basically a decent person despite her somewhat unorthodox life choices, was eventually murdered on her wedding day on the orders of a business rival. It's tough at the top.

Powers and abilities
Abilities
Sang and looked like an angel.
Strength level
Young human female who gets regular exercise.

Paraphernalia
Equipment
A Vodyonoi class gator-styling, ex-Red Navy, target-seeking hunter/killer borg (reprogrammed).
Weapons
Sometimes carries a gun.

Trivia
A demy octavo is a book made from a demy sheet (a certain size of paper) which has been folded into eighths.
Demi Octavo was possibly based on actor and singer Demi Lovato.
Links
Fan-Art Gallery: Demi Octavo
Discover and Discuss