Characteristics
Status
Origin
History
The Minion cyborg was created by Doctor
Evelyn Necker
of the scientific terrorist group Advanced Idea Mechanics (A.I.M) as a weapon in the year 2020 on an alternate Earth. It was sent out into the timestream to kill a number of skilled individuals and assimilate their skills and instincts into itself, but when it attempted to assimilate its 105th victim, the mechanoid bounty hunter
Death's Head
, his robotic nature resulted in Minion absorbing not only his instincts but effectively his entire personality. Death's Head's mind struggled for control of the Minion's body, warring with the minds of its other victims, until with the assistance of Reed Richards of the
Fantastic Four
, it became the dominant personality, albeit changed somewhat by being merged with all the others Minion had killed. This new individual became the
new
Death's Head and, freeing himself from A.I.M's control, embarked on a series of adventures throughout time and space with his new partner, the woman named
Tuck
. He was briefly a member of the
Dark Guard
.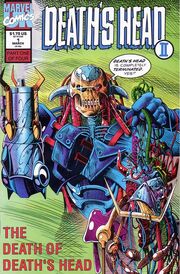 Powers and abilities
Abilities
Incredible fighting skills.
Strength level
Superhuman.

Paraphernalia
Weapons
Lots.

Notes
A more heroic character than the original Death's Head, the new version nonetheless still works as a bounty hunter and still shows traces of his predecessor's personality at times.
Death's Head II debuted in a four issue limited series in March 1992 before being awarded his own ongoing series in December of the same year. It lasted 16 issues until March 1994. He also appeared in various limited series' during that time. His solo series' were available only through comics speciality shops, but his adventures were also reprinted in the anthology magazine Overkill, which had conventional high street distribution.
Among the artists to have drawn Death's Head II are Henry Flint and Simon Coleby.

Trivia
'Death's Head II was Marvel UK's best selling export title, one issue selling over 500, 000 copies.
Links
Discover and Discuss
Community content is available under
CC-BY-SA
unless otherwise noted.