Daredevil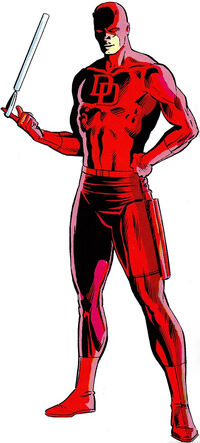 Real name
Matthew Murdock
Relatives
Battling Jack Murdock (father, deceased); Maggie (mother)
Base of operations
New York; San Francisco
Characteristics
Origin
History
Young Matt Murdock was blinded as a child when he pushed an elderly man out of the path of an out of control truck carrying radioactive waste, to which he was exposed. Matt discovered that the radiation had in some way compensated for his loss of vision by making his other senses incredibly acute, and giving him a kind of "radar sense" that was in some ways better than vision! Matt studied to become a lawyer whilst simultaneously training his body to the peak of human perfection. When his father, a boxer, was killed for refusing to throw a fight, Matt adopted the identity of Daredevil in order to avenge him, and now operates as both a crusading lawyer and, secretly, a masked vigilante. Because there's no ethical conflict there, at all...
At one point, not content with having a double life, Matt expanded it to a triple life, inventing a spurious twin brother named Mike Murdock, who was supposedly Daredevil. In theory, this was a ploy to protect his secret identity. In fact, it seemed to be little more than an excuse for Matt to prank his friends while acting like a complete tosser.

Powers and abilities
Powers
Radar sense
Abilities
Incredibly acute senses (supposedly, he can taste every individual grain of salt on a pretzel, and read a newspaper by feeling the indentations of the ink on the page); superior agility and acrobatic ability. He can also sort out your divorce for you.
Weaknesses
He's blind

Paraphernalia
Weapons
Billy club

Notes
Daredevil has appeared in numerous titles published by Odhams, Marvel UK and Panini, including Mighty World of Marvel, Marvel Super Adventure, The Daredevils, various iterations of the Spider-Man weekly, and Captain America (Marvel UK Weekly), as well as his own Daredevil Winter Special. Most, but not all, of these appearances have been reprints of American material.
Links
Fan-Art Gallery: Daredevil
Discover and Discuss