Danu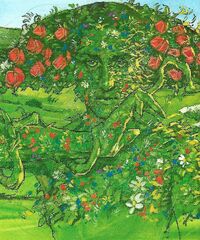 Relatives
Horned God (husband)
Characteristics
Status
Origin
History
Danu is a character from the 2000 AD strip Sláine. She was the earth goddess worshipped by Sláine's tribe, the Sessair. Her power gave Sláine the ability to warp into a monstrously strong form in order to conquer his enemies in battle. She was opposed by the mindless worm god Crom-Cruach and his servants the Drune Lords, the Lord Weird Slough Feg and Medb. She also fights for the Earth against the Archons, extraterrestrial gods, and their servants the Cyth.
Like nature itself, Danu can be playful, warm, nurturing, delightful or awesomely destructive. (According to her, it's acceptable for her druids to kill people by disembowelling them and performing haruspicy with their entrails because "death is only a pause in a long life and they will return on the wheel of rebirth to Earth." But it's wrong for the Archons or the Cyth to kill people because they "are other criminals from the stars" who "have no place in my world.") Fortunately for Sláine, Danu has a soft spot for him, and once permitted him to act as the embodiment of her consort, the Horned God. For his part, Sláine has always revered "Old Thunder Thighs," as he affectionately refers to her, and avenged any desecration of her sacred places or treasures. Danu once possessed the body of his companion Sinead to help her and Sláine win a battle with the Archons.

Powers and abilities
Powers
Sending people through time.
Strength level
Superhuman.
Links
Discover and Discuss
Community content is available under
CC-BY-SA
unless otherwise noted.