Cythrons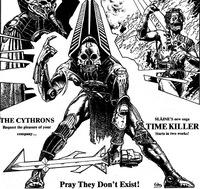 Characteristics
Unusual features
Weird lookin', all of them
Origin
History
Cythrons are characters from the 2000 AD strip Sláine. Led by the twisted Guledig, the Cythrons were an evil species of alien who worshipped the worm-god Crom-Cruach and wanted to start wars throughout the history of humanity to feed off human auras. They also aimed to farm humans like cattle for food.
The Cythrons intended to resurrect the ancient dark god Grimnismal. Hoping to halt any possible threats the Guledig orchestrated a mass invasion of the wizard Myrddin's castle. Myrddin however gathered a group including Sláine, Nest, Ukko, Murdach, Mogrooth, Tlachtga, Calgacus, Giya and temporarily-good Cyth Oeahoo, and led them through the Tomb of Grimnismal.
While most of the squad was slain, Grimnismal was successfully put down by the combined efforts of Sláine, Myrddin and Murdach. The Cythrons retreated, but vowed vengeance against those who had 'wronged' them.
Later Cythron plots have included an attempt to wipe the Celts from the face of the Earth by allying themselves with the Roman invaders, and having the Guledig try to release another dark god with the help of a young King Arthur.

Powers and abilities
Abilities
Various: they can fly, they are powerful in combat, they can morph their bodies, they are telepathic and they can shoot laser-beams from their eyes.
Strength level
Superhuman.
Weaknesses
Sláine.

Paraphernalia
Transportation
Cyth ships.
Weapons
Swords, spears, axes; leyser-guns, etc.
Links
Discover and Discuss
Community content is available under
CC-BY-SA
unless otherwise noted.